A study comparing automated and manual reprocessing methods for transvaginal ultrasound probes showed that the automated method was significantly more efficacious than manual wipes (91.4% vs 78.8%) in the high level disinfection (HLD) of ultrasound probes.1
Manual disinfection of medical devices has been shown to lead to an increased risk of operator error if protocols are not followed correctly and poor protocol compliance can lead to an increased risk of transmission for patients.1-3 A non-fatal case of hepatitis C and a fatal case of hepatitis B have been linked to improper ultrasound transducer disinfection.4,5
---
Guidelines across Europe agree – automation is best practice for high-level disinfection
Endocavitary probes (including transvaginal ultrasound probes) are classified as semi-critical medical devices, which require HLD between patients and the additional use of a sheath is also recommended.1–16 Ultrasound probes that contact sterile tissues are considered critical medical devices. Contact with sterile tissue can occur during procedures that penetrate the skin such as biopsies, drainages and vascular access as well as during intraoperative procedures.1–11, 13–16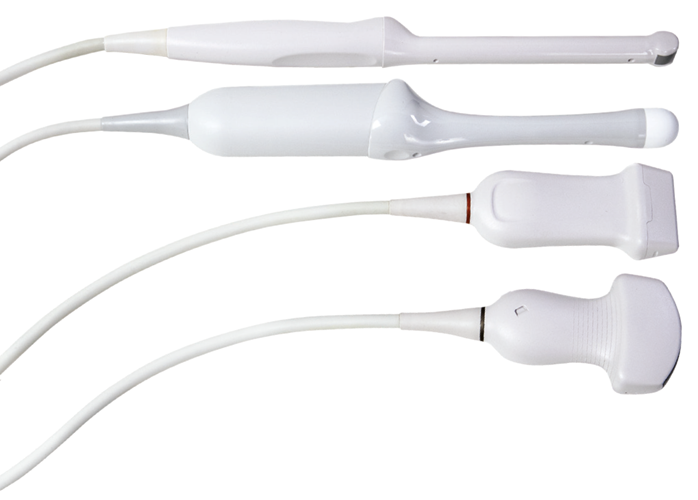 ---
Automation is best practice for high-level disinfection
European guidelines recommend automated methods as best practice because:1, 3–5, 8, 9, 11–13, 15
Manual processes are time consuming, variable and pose a risk of operator error.
Traceability is essential to protect institutions and patients with documented evidence of effective HLD.
Automation provides greater reliability and reproducibility of the disinfection process.
Europe – ECMUS 20174
"Automatic processes such as hydrogen peroxide (H2O2, e.g. Nanosonics Trophon EPR) are preferred, where approved by the manufacturer to guarantee a reproducible standardised and fast process, as long as a full documentation of the disinfection process is available (preferably in digital form)."
Germany – KRINKO/BfArM 201215 "...mechanical/automated methods should be preferred, especially since they are easier to standardise and reproduce and for reasons of occupational health and safety."
Europe – ESR 20173
"In Germany, Merz et al., like others, favours automated systems for high level disinfection, in particular devices using hydrogen peroxide (Trophon® EPR), now approved by the US Food and Drug Administration. Another important aspect of automated systems is the standardised and reproducible decontamination process thus avoiding operator-associated errors or variations."
Ireland – HSE 20179
"HLD using the manual multi-wipe system is the least preferred option for disinfecting SIUPs. Internationally it is recognised that the use of an automated validated process for decontaminating RIMD will provide enhanced risk reduction of infection transmission."
United Kingdom - AXEM, BMUS SCoR – 20205
"Disinfectant-impregnated wipes that contain an effective disinfectant are widely used but the assurance that all surfaces are in contact with liquid disinfectant for the required time is not as easy to achieve as a high-quality assurance standardised and automated process. Therefore, best practice is the use of an automated system."
Netherlands – WIP 201713
"Automation is reproducible and therefore able to be validated."
France – Ministère des Solidarités et de la Santé12
"Semi automated disinfection processes. These devices make it possible to obtain an automatic, standardized, reproducible and traceable disinfection procedure. This limits or even avoids errors and variations related to the intervention of an operator."
Wales – WHTM 20148
"As stated in this chapter, health facilities should investigate and work towards the use of automated and validated decontamination systems."
---
trophon2® – demonstrated protection across every HLD cycle
Simplifies and reduces workflow burden for staff at point of care
Fully enclosed, automated HLD system to prevent exposure to hazardous chemicals, fumes and spills
A 7 minute HLD cycle time with less than 2 minute hands on staff intervention time
Can be placed at point of care (POC) and setup in a wide range of locations
Reduces the need for personal protective equipment and ventilation when compared to wipes and soaks
Simplified workflow enables fast turnaround without sacrificing safety, compliance or effectiveness
---
Demonstrates compliance across the workflow, delivering digital audit-ready records
Digital traceability RFID technology (AcuTrace™) records operator, probe and cycle data to capture and demonstrate user compliance
Records are ready for audits
Offers an extensive probe compatibility program
Tested, approved and endorsed by ultrasound probe manufacturers across more than 1,000 probes17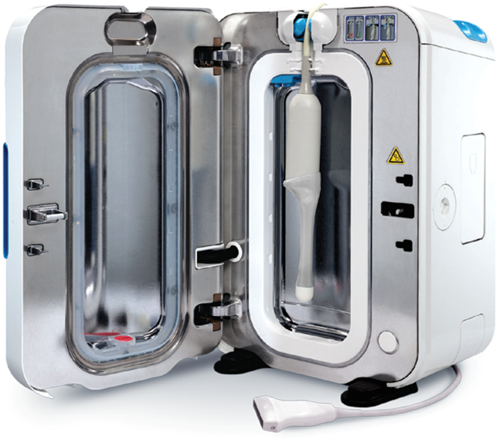 Buescher DL, et al. Disinfection of transvaginal ultrasound probes in a clinical setting: comparative performance of automated and manual reprocessing methods. Ultrasound Obstet Gynecol, 47(5):646–51, 2016.
Weber DJ, Rutala WA. Assessing the risk of disease transmission to patients when there is a failure to follow recommended disinfection and sterilization guidelines. Am J Infect Control. 2013;41(5 Suppl):S67-71.
Ferhi K, Roupret M, Mozer P, Ploussard G, Haertig A, de La Taille A. Hepatitis C transmission after prostate biopsy. Case Rep Urol. 2013;2013:797248.
Medicines and Healthcare products Regulatory Agency (UK), Medical Device Alert Ref: MDA/2012/037.